Monday: 10am - 7pm
Tuesday: 10am - 7pm
Wednesday: 10am - 8pm
Thursday: 10am - 8pm
Friday: 10am - 8pm
Saturday: 10am - 8pm
Sunday: 12pm - 6pm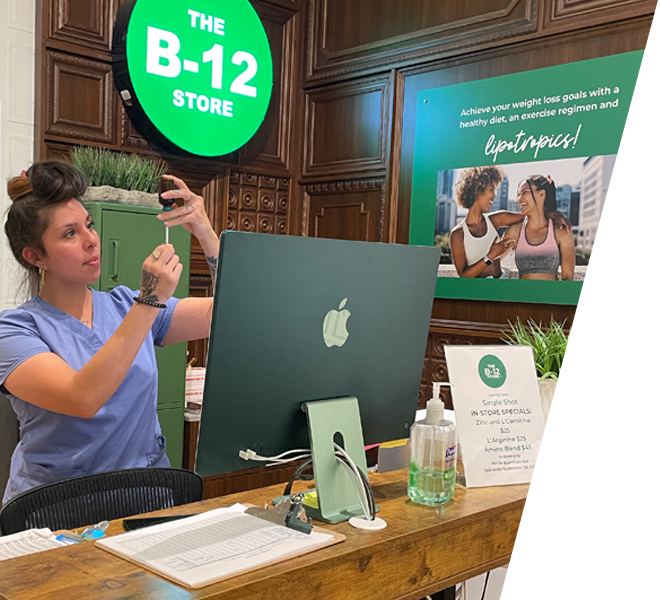 Donald Patterson and Barbara Dugas-Patterson
Owners, The B-12 Store
Barton Creek Square Mall - Austin, TX
"We are Donald Patterson and Barbara Dugas-Patterson, the owners of the B-12 Stores in Barton Creek Square Mall and Lakeline Mall. We have been married for 36 years and have three adult children. When I (Barbara) was a child, my mom, Mary, who was a nurse, learned about the health benefits of taking B-12 shots and began giving them to our family. When I married Donald, I introduced him to B-12 injections and we did the same for our children, who are now believers in the benefits of vitamin injections. When we moved back to Texas in 2020, after over 25 years in California, we discovered the B-12 store in Stonebriar Centre in Frisco. We soon became regular customers at the Stonebriar store, befriended the owners and decided to open stores of our own.

We are passionate about sharing what we have learned about proactively taking care of our health. We are excited to provide products to mall customers that have often been limited to the wealthy at expensive medical clinics. And we are committed to providing clients with injectable vitamin therapy in a professional, convenient, and cost-effective way. Our vision is to educate, inspire and motivate our customers to live healthy, happy and purposeful lives. We are committed to our health and yours. Come and join us on this journey!
By the way, Mom spent her 97th birthday in March 2022 at the B-12 store in Stonebriar Centre getting B-12 and biotin shots. Her mind was as sharp that day as when she was 50! Then we took her around the mall where she picked out jewelry for her birthday! In addition to her faith, prayer and the love of family and friends, we are confident that taking B-12 shots for most of her life had made a positive impact on keeping her healthy, active and productive for 97 wonderful years!"